Be a mobilizing leader
Meet GSA, an international leadership training by Elos Institute for those who want to learn to lead transformations in the most varied contexts and who believe that the way to transform is to do it collectively.
A course that teaches how to transform through community
GSA is a course that brings together young people from all over the world who seek transformation and want to be part of it, learning in practice the Elos Methodology and the application of various social technologies. With annual classes of 60 students, it has already trained more than 600 people from 51 countrie. Through a unique and proprietary approach, the course prepares you to lead transformation processes in you life and community.
Run since 1999 by the Elos Institute, the GSA offers a profound experience in transformation with several learning stages, based on a series of social technologies that facilitate the social development of communities. It was conceived with a focus on young people between the ages of 18 and 35 who seek:
Unite training and purpose
Be part of a new generation of diverse, pro-active, ethical, networked leaders who act through listening, dialogue, and collaboration.
New perspectives for your community
Fostering community and youth protagonism to promote networked actions that strengthen our potential to transform the world we live in into the world we dream of.
Systemic approach
Learn how to influence social practices in businesses in any of the three organizational sectors with the values of listening, dialogue, and collaboration, seeking to engage them in a movement of positive transformation for people and the environment.
GSA is a leadership training that happens through a 1-year experience.
There are 510 hours of classes, including practical learning of the Elos Methodology and of several social tools, in real communities, utilizing shared knowledge as a basis for building common dreams.
Yes Path
21 hours ONLINE (deadline april/22)
Personal development process, and participant selection for the Immersion. Participants receive access to an exclusive game platform, where they will be supported by materials and tools to develop themselves on three levels of relationships: I with myself, I with others, I with the world. Each process is closely monitored by an experienced team, who study your performance in the game and the tasks completed, and provide personalized feedback.

Abundance Game
27 hours ONLINE (Mar-Jun/22) Development of network mapping and resource mobilization skills by learning individual and collective strategies. During this process, the skills of mobilizing resources and networks to materialize a project are improved, the practical result being the mobilization of the necessary resources to make your participation in the program viable. An experienced team supports the journey, analyzing the projects, providing individual mentoring, and contributing to the fundraising roadmaps.

GSA Immersion
25 days IN-PERSON in Santos/SP, Brazil (13 Jul to 7 Aug 2022)

The central moment of the program is a hands-on experience where theory and practice come together. We will learn theory and practice on Non-Violent Communication, use social technologies such as World Café, Open Space, Cooperative Games, and practice Brazilian indigenous pedagogy out in nature. Participants will learn the Elos Methodology and receive training to apply the Oasis Game, while working with real communities, with dreams of real people.
Expansion Path
108 hours ONLINE (Aug-Dec/22)
Moment to deepen the knowledge acquired and strengthen their actions in building the best world we can dream of. Videos, articles, and online meetings with experts from different areas will be made available. At this moment, participants also gain access to a network of mentors and members of other editions, where the exchange and sharing of experiences for global transformation with the power of the network is encouraged.
How does one leave this experience?
With the ability to understand and work with complex systems for mobilization and socio-economic development.
Equipped with practical tools and effective training in the use of a proven methodology for developing transformation projects, in different environments and situations (personal, interpersonal, local or global).
Connected to a powerful, international network of over 600 engaged leaders available to talk about your projects and offer support in a variety of ways.
Having tested and validated your skills in a complex, real-world, transformational project in a

community in situation of social vulnerability.

Prepared to make better choices about the use of your resources and the mobilization of people and resources for your projects.
With access to data, real cases, and materials with real stories of transformation, which will help you in your personal mobilization and also in community mobilizations in a professional way.
With your own project and a one-semester mentorship for its development.
With clarity about your talents, with a clear mapping of your support network, and with a vision of your dreams for the future.
Investment and Scholarships
The cost per student for the 12-month program is R$21,000.00. However, thanks to the generosity of people and organizations that invest in the formation of a new generation of leaders for Brazil and the world, a subsidy of 30% of this cost is available.
FINAL PRICE PER STUDENT
R$ 14,700 or 12 x R$ 1,236.70.
What is included?

The pedagogical online platforms, the in-person classes, and the structure and logistics (without transport and travel visas) for the immersion phase
– see more details
Read below about our scholarship and discount policy** that aims to guarantee cultural and social diversity, one of the pillars of the GSA experience.
Get to know our scholarship policy
Still seems hard to achieve? Don't give up, and we won't give up on you! Learn about our scholarship policy.
Social justice and diversity are core values for us, and GSA is designed to be a program that embraces a diversity of people and realities, uniting them around common purposes. That is why we work hard so that everyone who identifies with the course and demonstrates social commitment and potential to lead – regardless of their socioeconomic background – can participate by accessing our scholarship fund. The granting of scholarships will follow social justice criteria, prioritizing people from historically marginalized territories, skins, and cultures who show themselves to be highly engaged in the GSA proposal.
Not sure if you have the profile to get a scholarship?
Can't afford it and don't know if you have the profile to get a scholarship? Take our hand and we'll show you the way!

Did you see that one of the stages of the GSA is called the "Abundance Game"? Well, in this stage we will help you map out and mobilize the abundance of resources you can access to make your participation in the program viable. This experience is often reported as one of the most important for people who take the GSA. After all, if you want to change the world, you will already learn how to work with one of the biggest challenges you will encounter on your path: mobilizing people and resources to make transformation happen. We invite you to take a courageous step: enroll and get involved in the process! Upon the journey, you may discover that the "impossible" does not exist. We will be together, reinforcing our commitment to show you this path.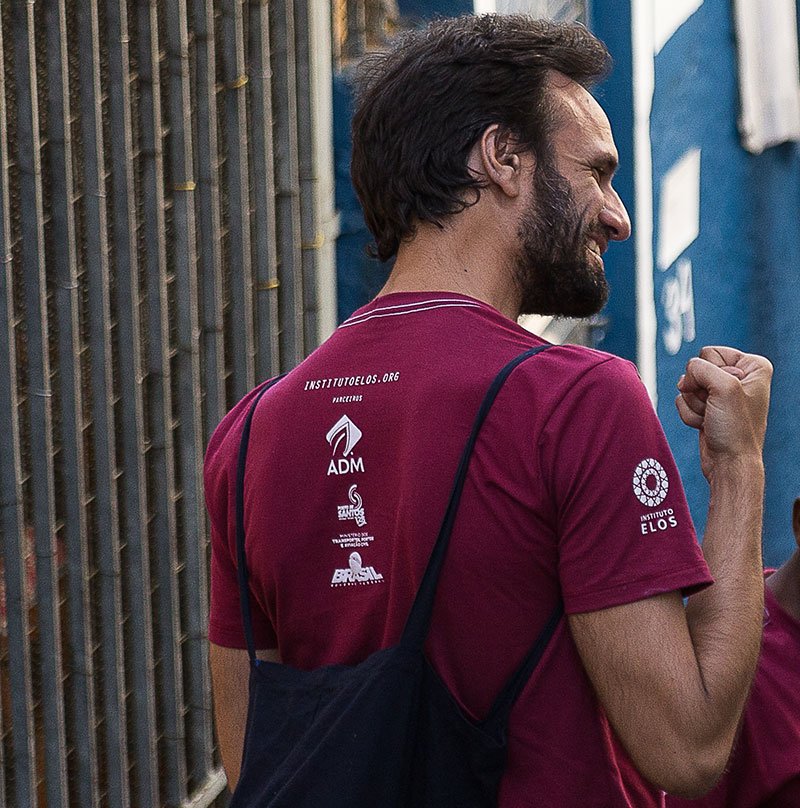 See all that is included in the program
Online pedagogical platform
Access to the exclusive platform with the games developed by the Elos Institute, where there you will receive videos, articles, publications, activities, case studies, and tools to develop your skills.

There are 220 hours of online training, including 7 study guides; 5 community of practice meetings, and 6 collective challenges.

Follow-up of all online activities by qualified professionals, mentoring during the process, and feedback on your deliverables.

You will become part of a global learning community, present in over 50 countries.

All content will be provided in English.
On-site Pedagogical
A 25-day Immersion period in the communities, led by a team of qualified professionals to deliver the on-site training hours.

It includes all the didactic material and the necessary professionals, speakers, facilitators, and other guests to present the program's theoretical and practical content.

During this period, there are several daily learning and practice expeditions in up to 3 different communities, with facilitation by a large team of qualified professionals.

It also includes all the necessary structures for explorations and learning with practical experiences typical of indigenous communities, with the leader Kaká Werá.

It includes some special classes with guest speakers, as well as events prepared for the participants and communities, and a few more surprises!

All content is bilingual (Portuguese and English, and there will be people to help translate when needed).
Structure and logistics
Accommodation for the participants and the whole team of professionals involved in the program and the GSA for one month, in a collective living space with structure to accommodate all activities in the community.

All meals during the immersion days (three meals a day, coffee breaks, etc), primarily ovolactovegetarian.

All land transportation to perform the activities during the Immersion period.

All the audiovisual structure for the classes, lectures and events.

Production, execution and logistics of some large meetings/events during the Immersion period, including transportation and meals for the entire team needed, GSA and participants from the communities.

Professionals and transportation needed to conduct the entire process of selection and preparation of the communities to receive the GSA cohort, prior to the beginning of the Immersion.

Follow-up in the communities after the program, with meetings and mentoring for the projects developed on site.

Accompaniment by a team specialized in first aid during some expeditions, for the safety and tranquility of the whole team.
*Not Included
*Services for the Immersion phase of the program:
Airplane tickets.

Visa and/or passport.

Transfer from the airport/bus station to the accommodation.
Check out the testimonials
I would gladly recommend this program to whoever is interested in Leadership, social innovation and community development.
The methodologies utilized are innovative social techniques which will help impact all dimensions of your life: personally, professionally, socially and psychologically. The benefits will last for a life time.With immense joy in my heart I reiterate that the one month I spent in Santos was immensely transformative and memorable.
Frequently asked questions about GSA
Why do I need to pay to attend the course?
A whole team of professionals works for 12 months so that you receive training of excellence during the GSA. The payment covers the remuneration of this team plus all the production of teaching materials, online platform, external speakers, accommodation, local transport and food, as well as many other items that can be found above in the section "see all that is included in the program".
However, not all program costs will be paid by the participants! When you are one of the people approved in the selection process for GSA, it means that Elos Institute has also decided to invest in you, and we believe that your coming to GSA will benefit you and many more people, including the program's partner communities. For this reason, we mobilize financial resources throughout the year, through the work of our team and also through donations from organizations, so that every participant can pay a subsidized amount, lower than the cost of the program – and also have scholarship options (see the "investments and scholarships" section)! In addition, we have a fundraising module (Abundance Game), which means that our expert fundraising team will provide you with knowledge and mentoring, and be with you looking for ways to make your participation viable.
What are the payments I need to make to attend the course?
During the second module (Abundance Game), participants will receive the Payment Plan and each participant can propose changes to this Payment Plan if necessary. Read more about the program fees under the above heading "investments and scholarships".
Is GSA a volunteer program?
No, GSA is an international training in mobilizing leadership, a course with activities that unite theory and practice, composed of four modules. It has almost double the equivalent workload of a common Postgraduate degree, with the difference that here you learn mainly through practical experience. The activities carried out in the communities during the program are a strategy for learning immersed in a reality that will captivate and challenge you. And in this context, you will learn to apply the Elos Methodology, with the guidance of a team of experienced professionals.
Why is the course expensive?
We understand that the total cost may seem high and we know that it may be beyond your capabilities, which is why we offer a subsidy as well as some financial facilities (see the section on "investments and scholarships").
However, taking into consideration all that is included in the program, compared to other courses on the market, we believe that the price is very fair. See everything included in the program in the list that can be found above under the heading "see all that is included in the program".
As we know that the cost of the program may seem beyond your capabilities, we have a module of the course specifically focused on fundraising support (Abundance Game), where you will learn about how to mobilize resources, with mentoring from our expert fundraising team, who will be with you looking for ways to make your participation feasible.
How can I apply for a grant?
The first step is to read the criteria in the "investments and grants" section and understand if you meet the ones we have set as priorities. The second step is to actively participate in the Abundance Game, our module designed to help you fundraise for participation in the program – with mentoring from our expert fundraising team, who will be with you looking for ways to make your participation viable. We are often surprised at our ability to mobilize our network! In addition, during this stage you can also apply for our scholarship form.
Does this course have a religious content?
We do not have a religious content, nor are we bound to any specific religion. We welcome and celebrate a plurality of beliefs, expressions, and cultural and spiritual practices in an environment of respect.
Even so, it is worth clarifying that, as part of the pedagogical proposal, the Immersion phase presents ritual practices inspired by indigenous cultures, with traditional songs and dances, offered by an important indigenous leader, Kaká Werá, who is a main partner in the program. We will also practice circle dances of diverse origins as a way to begin our days and activities celebrating our community. We trust in circular dances as instruments to rethink and reposition forms of sociability and cultural practices. They present us with affective, subjective, and educational possibilities for the construction of a culture of peace, through the communion and fraternization of bodies that interact in a common, rhythmic, and harmonious movement.
I have my religious convictions, do I need to give them up to participate in the program?
No. You don't need to give up your values and convictions, but you need to participate in the program's activities, whether they are circular dances, indigenous games and rituals, or sharing around bonfires. If you believe that participating in any of these activities will make you uncomfortable, for religious or other reasons, GSA is not a program for you.
How does the selection process work?
The selection process takes place after the Yes Path, which is a personal development stage through which we also select the participants who can proceed to the Immersion phase, where there are openings for only 60 participants. Learn more about the Yes Path, Immersion and other modules of the program in the "how it works" section above.
Where does the program take place?
The Immersion is the only presential module, which takes place in Santos, SP – Brazil. All the other stages are online. Learn more about the modules in the "how it works" section above.
What are the dates for the in-person Immersion?
Find this and other details about the Immersion in the "how it works" section above.
Registration and pre-enrollment
Fill out the form to be informed of all the details and to know when the selection processes begin!
If you are committed to personal transformation and want to get to work to be part of the change for a better world, we really want to meet you. What do you think?